DNG Support and Conversion
We regularly update Exposure to support RAW files from the latest cameras. However, older cameras may not be supported. In situations where Exposure can't process a particular format, a useful workaround is to convert to DNG (Digital Negative) format.
Exposure can read and edit DNG files that have been created in-camera or converted from a proprietary RAW format. If your camera isn't officially supported, see if saving in DNG format is an option. You can also use a DNG converter to create an DNG file from a RAW file.
Install a DNG Converter
Many programs can convert to DNG format, but the most widely used is the Adobe DNG Converter. It's available for free from Adobe.
Add to External Editor Options
You can configure the Adobe DNG Converter as an external editor. This allows you to quickly send unsupported files for conversion. Here's how to set it up:
Download and install the

DNG Converter

from Adobe.
Open the Exposure Preferences window.
Mac: Exposure [Version] > Preferences
Windows: Edit > Preferences
Select External Applications.
Click the Add (+) button at the upper right.

Navigate to the DNG Converter.

Press Open to add the application to the list.

Set File Type and Color Space to Original.

Set the file naming as desired.

Close Preferences.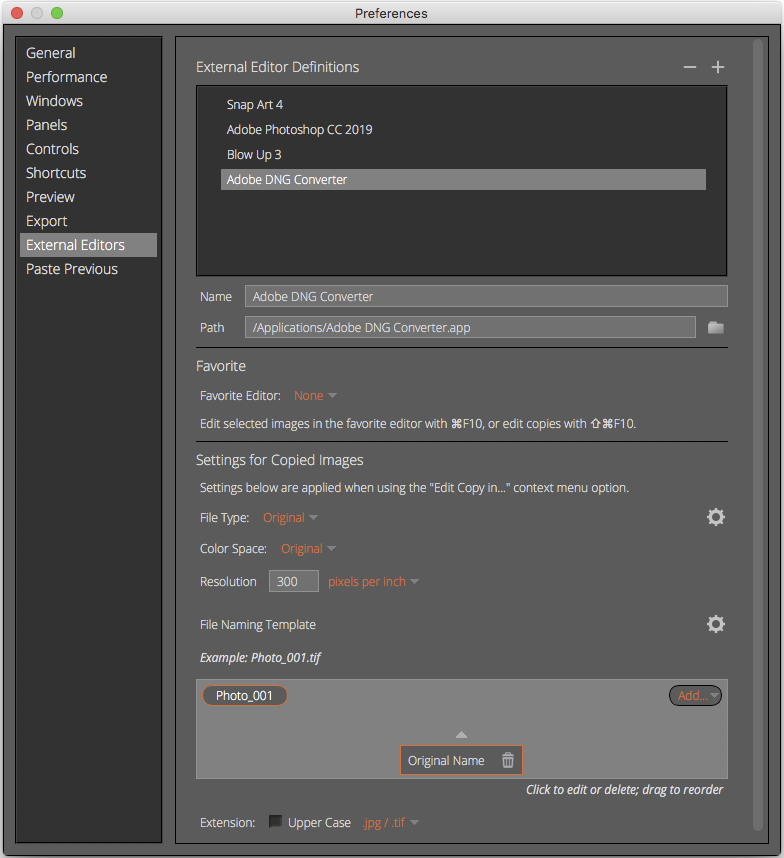 Convert Unsupported Files to DNG
Select the unsupported file(s) you want to convert.

Right-click and choose Edit in > Adobe DNG Converter.

The converter will open with the file path selected. Set the location and change the name as desired. 

Use Save in Same Location if you want it to appear in the original folder.
Click Convert. The DNG file(s) can now be edited in Exposure.
Close the DNG Converter.
Note: The DNG Converter folder selection is "sticky." If you don't close it, the previous file path will show the next time you send a file.