Converting presets to a newer Exposure version
Question
I have an earlier version of Exposure, and have now purchased the latest version. How do I upgrade my existing user presets so I can use them in the latest version of Exposure?
Note: This article applies to all versions from Exposure 4 onward. Presets from Exposure 3 and before cannot be converted to later versions.
Answer
Presets must be updated to new versions of Exposure using an automated preset update tool. Presets from one version cannot be shared manually with a different version.
Exposure X3 and newer versions automatically upgrade presets from the most recent version back to Exposure X.
To move the presets between earlier versions, you will need to temporarily install the intermediate versions. For example, to upgrade Exposure 6 presets to Exposure X3, you would need to install Exposure 7 and Exposure X as well as Exposure X3.
1. Install intermediate versions
First, download and install the intermediate versions (in this case Exposure 7 and X) from this link.
If you are upgrading to Exposure X3 or later you only need to install up to Exposure X.
2. Run next version
Once the programs are downloaded and installed, open Exposure 7. The first time you run a new program, it will automatically search for and upgrade presets from the prior version. Look in the Presets panel to see if you user presets have been added.
3. Find or import user presets
If you've run a version in the past you will need to import new user presets in the Preferences menu.
In Exposure, open the Preferences window.


Mac: Exposure [Version] > Preferences > General

Windows: Edit > Preferences > General

Older applications: Help (?) button > Preferences

Click the Import button. A confirmation dialog will show the presets that have been updated.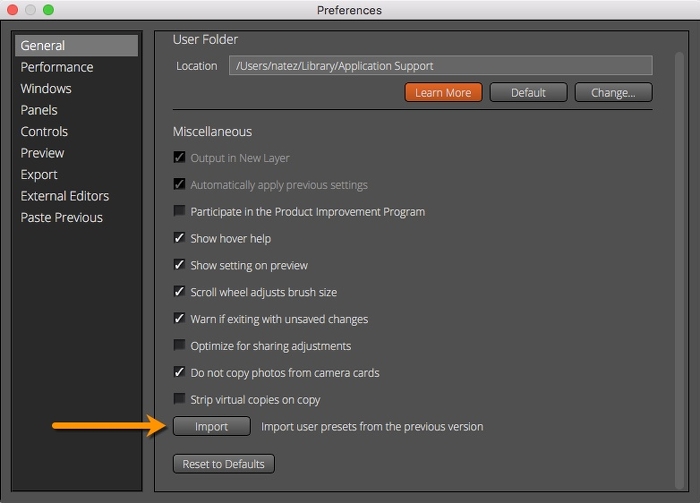 4. Repeat until user presets show in the new version
Close Exposure 7, and launch Exposure X, followed by Exposure X3.
5. Remove unwanted versions
Once the presets are updated, you can uninstall unwanted versions using these articles.
Uninstalling your plug-in on a Mac
Uninstalling your plug-in on a PC
If you have trouble updating your user presets, locate your user presets using the article below. Compress (zip) your user presets and submit them in a support request.
Move User Presets To Another Computer