Launching External Apps From Exposure
Exposure lets you add external applications, allowing you to easily send images or copies of images to another application for edits that aren't available in Exposure. Use Blow Up for crystal clear enlargements, add an artistic flourish with Snap Art, or do additional editing in Photoshop. Beyond these officially supported programs, a wide variety of applications may be added to your editing toolbox.
The Exposure Bundle installers automatically configure Snap Art and Blow Up as external applications during installation.
This article applies to Alien Skin Exposure X and later versions. Exposure 7 and earlier do not support external editing.
Officially Supported Applications
These programs have been tested to work well with Exposure as external applications.
Snap Art 4

Blow Up 3

Adobe Photoshop (CS6 and CC versions)
Other External Applications
Image editors
These editors have not been thoroughly tested, but they will likely work well for you. Editors that allow you to open an image, and then save after editing, work well with Exposure. Examples include:
Photoshop Elements

Corel PaintShop Pro

Pixelmator

Affinity Photo
Popular Plug-in Applications
Plug-in applications load and save images differently than typical image editors. Because of this there are some caveats for their use with Exposure. Examples include:
On1 Photo

DxO FilmPack

Nik Collection (except Nik HDR Efex)
Make your copies using Exposure, not the third party editor. This ensures your TIFFs and JPEGs are consistent with your other files.
On1 Photo and DxO FilmPack work well, but they open as a standalone so they don't shutdown after the effect is processed. The effect is correctly applied to the image, but you have to tell it to save the image (overwriting the copy if you 'edited a copy' from Exposure).
On1 Photo and DxO FilmPack can read RAW and write out to TIFF or JPEG. If you edit an original RAW file, the external application will save the file back to a TIFF or JPEG. We recommend letting Exposure make the copy to TIFF or JPEG, and then loading it into the third party external editor.
Nik software works with Exposure as a plug-in does in Photoshop. It will launch the program, process the image, apply the setting, and then automatically close down. Exposure will reconcile the change and show the effect.
Nik HDR Efex does not work with Exposure. It opens, processes the image, and closes, but the image is never actually changed.
Managing External Applications
Make sure the application(s) you wish to add to the Exposure external editing menu are installed on your computer before proceeding with these steps.
Open the Exposure Preferences window.
Mac: Exposure [Version] > Preferences
Windows: Edit > Preferences
Select External Applications.
Add or Remove Image Editor Definitions
Click the Add (+) button at the upper right.
To remove an item from the list, highlight the item and click the Remove (-) button.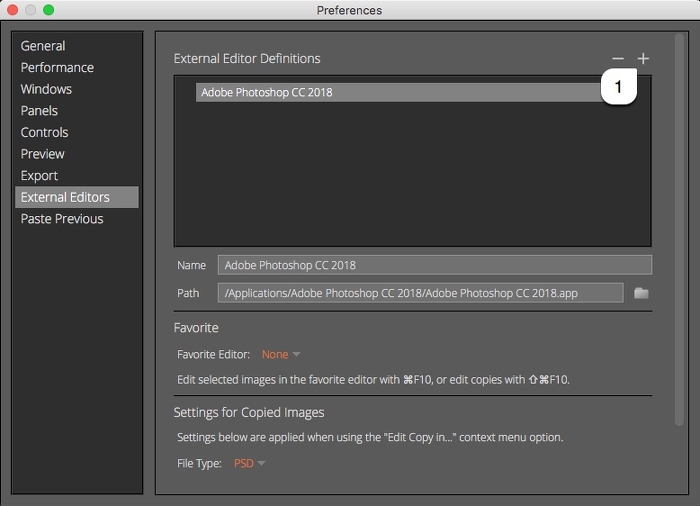 Navigate to the application using the appropriate path. This image shows Blow Up 3. Paths for officially supported applications are included with this article.
Press Open to add the application to the list.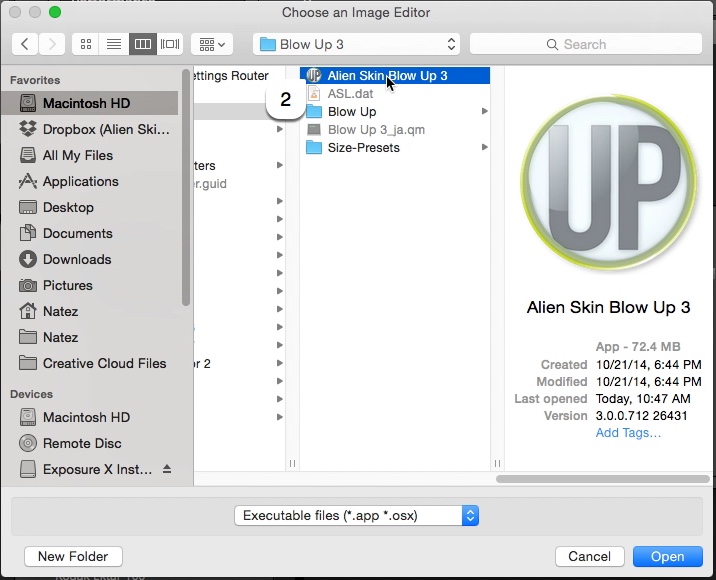 The program Name and Path fields will be filled in. The Name can be shortened or changed if desired.
Settings for Copied Images
Use this section to set the file type and settings you want Exposure to use when you select "Edit Copy of…" Every time you send a copy to an external application these settings will be used. Choices include:
Use an external application
Edit Copy of an Image
This is the preferred option when you want to retain the adjustments and presets you have applied in Exposure. It will apply all of the adjustments you have made and save to a new TIFF or JPEG file.
To edit a copy externally, right click on an image and choose Edit Copy in… (Program).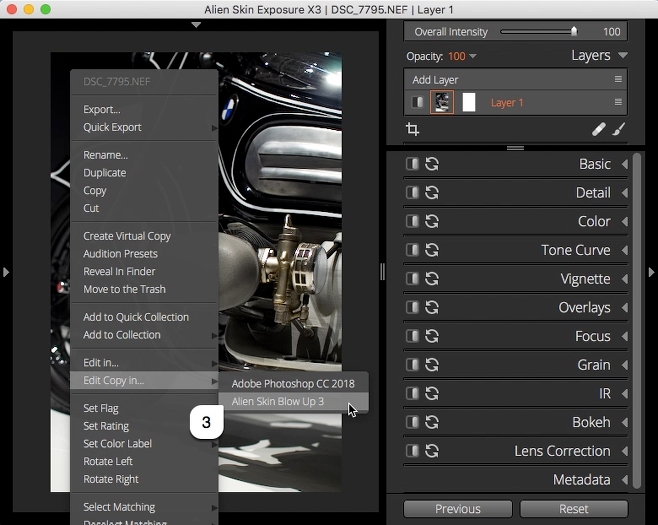 Edit Original Image
This option is useful if you want to change the original image. This lets you use Exposure as the organizer, but allow another program to create edits.
Note: This is will allow the external editor to alter your original file. None of the edits you have applied with Exposure are applied to this original file.
To edit an image externally, right-click on an image and choose Edit in… (Program).
External application paths
These are the paths to officially supported external editing applications. For other applications, consult the manufacturer of the product to locate where the application is stored. They are typically in Applications or Application Support (Mac) or Program Files (Windows).
Blow Up 3
Mac: Macintosh HD/Library/Application Support/Alien Skin/Blow Up 3/Blow Up 3.app
Windows: C:/Program Files/Alien Skin/Blow Up 3/Blow Up 3 x64.exe
Snap Art 4
Mac: Macintosh HD/Library/Applications/Snap Art 4.app
Windows: C:/Program Files/Alien Skin/Snap Art 4/Snap Art 4 x64.exe
Photoshop CC 2018
Mac: /Applications/Adobe Photoshop CC 2018/Adobe Photoshop CC 2018.app
Windows: C:\Program Files\Adobe\Adobe Photoshop CC 2018\Photoshop.exe