Exposure Safe Mode is useful for troubleshooting crashes and performance issues. This article shows how to open Safe Mode, the basic functions, and a brief troubleshooting walkthrough.
Safe Mode was added in Exposure X4. Earlier versions do not have this feature.
Open Exposure in Safe Mode
Hold Shift while opening Exposure. The program will open with a Safe Mode dialog window.
You can move the Safe Mode dialog to the side to work with the Exposure user interface.
To return to standard operation close and reopen Exposure as normal.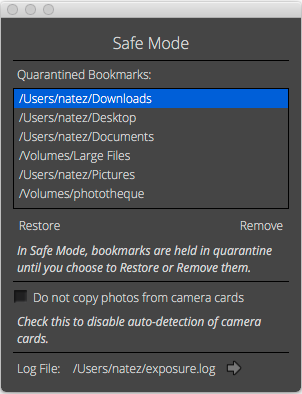 Quarantined Bookmarks
Safe Mode starts with all bookmarked folders quarantined. Images in quarantined folders will not be scanned or previewed by Exposure. You can add folders individually to isolate problem files and performance issues.
To restore a bookmark, select it in the Quarantined Bookmarks list.
Click Restore and it will show in the Exposure Folders menu.
The Remove option will remove the selected bookmark from Exposure. The folder is still on your computer, but Exposure will no longer list or scan it.
Do not copy photos from camera cards
Sometimes camera cards or folders that look like camera cards can cause Exposure to hang after opening.
Check the Do not copy photos from camera cards box if Exposure is hanging immediately after opening.
Close Exposure and reopen as normal to test.
You can still copy from the card using the File > Copy from card path. It just won't open the dialog when a card is inserted.
Log File
Safe Mode creates a log file and records Exposure's actions. The log is stored in your user file and is called exposure.log. The log starts recording as soon as safe mode is open, but it's useful to open the the file browser window so you can access the log quickly if needed.
Click the Log File Arrow icon at the bottom of the Safe Mode dialog. A file browser will open with exposure.log highlighted.
You can leave the file browser open while working in Exposure.
Troubleshooting Workflow
Corrupted or oddly formatted files are the most common causes for crashes in Exposure. These steps are useful for isolating the problem files.
Hold Shift while opening Exposure to start in Safe Mode.
At the bottom of the Safe Mode dialog, Click the Log File Arrow icon. A file browser will open with exposure.log highlighted.
Leave the file browser open. You'll need to return to it in case of a crash.
In the Safe Mode dialog, select a folder you want to work in and click Restore. It will show in Exposure's Folders menu.
Try working on images in Exposure.
If no crash happens, go back to step 4.
If a crash happens and a crash report dialog shows submit it with your email.
Go to the file browser with the exposure.log file. Open it with a text editor and scroll to the end. The last few lines for file paths to specific image files. These are commonly the cause of the crash.
Move the file(s) to a location that Exposure doesn't scan. You can create a Quarantine folder in your User folder. By default Exposure doesn't scan the User folder.
Open again in Safe Mode and repeat steps 4 through 9.
If no crashes happen after restoring all quarantined bookmarks, close Exposure and open as your normally would. If it works correctly, you're all set.


It's helpful to send us problem files so we can figure out what is causing the crash you experienced.
If you haven't already, submit a support request.
Send us these files. Files are used solely for internal testing.
Exposure.log
Problem file(s)
If files are too large to include in a support ticket, submit them with this link.