Monitor Folder for Tethered Shooting
Tethered shooting connects your camera to your computer so images are saved to your computer as they are captured. Exposure's Monitor Folder tool looks for these images and automatically applies any desired edits, metadata, presets, or renaming for each of them.
Exposure does not control your camera or trigger the shutter. For this you will need other software. This article provides resources for additional software and hardware you will need and shows how to set up tethered shooting using the Monitor Folder tool.
Note: This article applies to Exposure X4 and newer versions. Exposure X3 and before do not support tethered shooting.
What is needed
In addition to your camera and computer, you'll need software to control the camera, and a cable to connect them. Our friends at Tether Tools are a great resource for both these. Their site also has useful tutorials, accessories, and kits for tethering.
Tethering Software
Allows you to control the camera from your computer and set a destination folder. Compatible software differs from camera to camera. This list contains options for each of the camera brands supported in Exposure. For more options Tether Tools has a tool to find other compatible software.
https://www.tethertools.com/tethering-software/
Camera
Suggested Software
Canon
Canon EOS Utility
Fujifilm
Fujifilm X Acquire
Hasselblad
Phocus
Leica
Leica Image Shuttle
Nikon
Nikon Camera Control Pro 2
Olympus
Olympus Capture
Panasonic
Lumix Tether
Pentax
Pentax

Image Transmitter 2

Samsung
Samsung Remote Studio
Sony
Sony Camera Remote Control
Tethering Cable
Requires connectors that are compatible with your camera and computer. It must be long enough to reach from the computer to the camera with enough room to move as needed. This page has a tool to find a compatible cable.
https://www.tethertools.com/product-category/cables-adapters/
Setup for Tethered Shooting
This is a basic overview. For more specific examples and a real world use case, see this tutorial video.
Tethered Shooting

1 - Set Camera USB Mode
The camera settings must be set to a USB mode that supports tethered shooting. Make sure it is set to P2P (peer-to-peer) mode. Tethering will not work if it is set to mass storage. Consult your camera user manual for specifics.
2 - Connect Computer and Camera with Cable
3 - Set Destination Folder
Open the control software and find your camera. Set up a destination folder on the computer for new images. This can be in your Pictures folder or another location where you store images.
4 - Monitor Folder in Exposure
In Exposure's Folder menu, find the destination folder.
Right-click the folder and choose Monitor Folder to open the Folder Monitor dialog.
Note the Folder Monitoring icon with a red bolt in the Folders panel.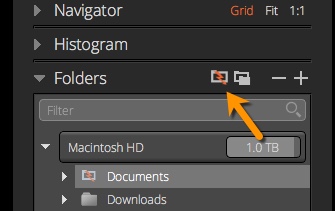 5 - Set Monitoring Options
Auto-Select Latest
Automatically selects each image as it is added. Edits made will be applied to this image.
Apply Metadata
Set desired metadata, keywords, and editing presets. If you apply multiple presets, each is applied to a new virtual copy.
Rename Files
Automatically assign a file name of your choice.
6 - Begin Shooting
As you shoot, images will show in Exposure with the settings you have chosen. You can rate, cull, and make edits as desired.
If desired, you can minimize the Monitor Folder dialog. To display the dialog while it is hidden, click the monitoring icon in the Folders panel.
When complete, click Stop in the Folder Monitor dialog or right-click the monitored folder and choose Stop Monitoring.