Lightroom to Exposure Migration Tool
The Lightroom to Exposure Migration Tool enables you to transfer your original images, copies of edited images, keywords, collections, and other metadata from Lightroom to Exposure. It does not replicate your Lightroom visual adjustments into corresponding Exposure visual adjustments.
The migration tool will automatically find all Folders in Lightroom and add them to your Exposure Folders list. It also will transfer specific metadata for each image. This article shows how to run the tool and what metadata is and is not transferred to Exposure.
This article applies to Exposure X4 and future versions. Exposure versions X3 and earlier do not have a migration tool. For these versions, use this article to manually bring your work forward:
Moving from Lightroom to Exposure
Open the Lightroom to Exposure Migration Tool
The tool installs to Lightroom as a Plug-in Extra during the Exposure installation process.
Open Lightroom.
Go to File > Plug-in Extras > Migrate Catalog to Exposure. The Lightroom to Exposure dialog will open.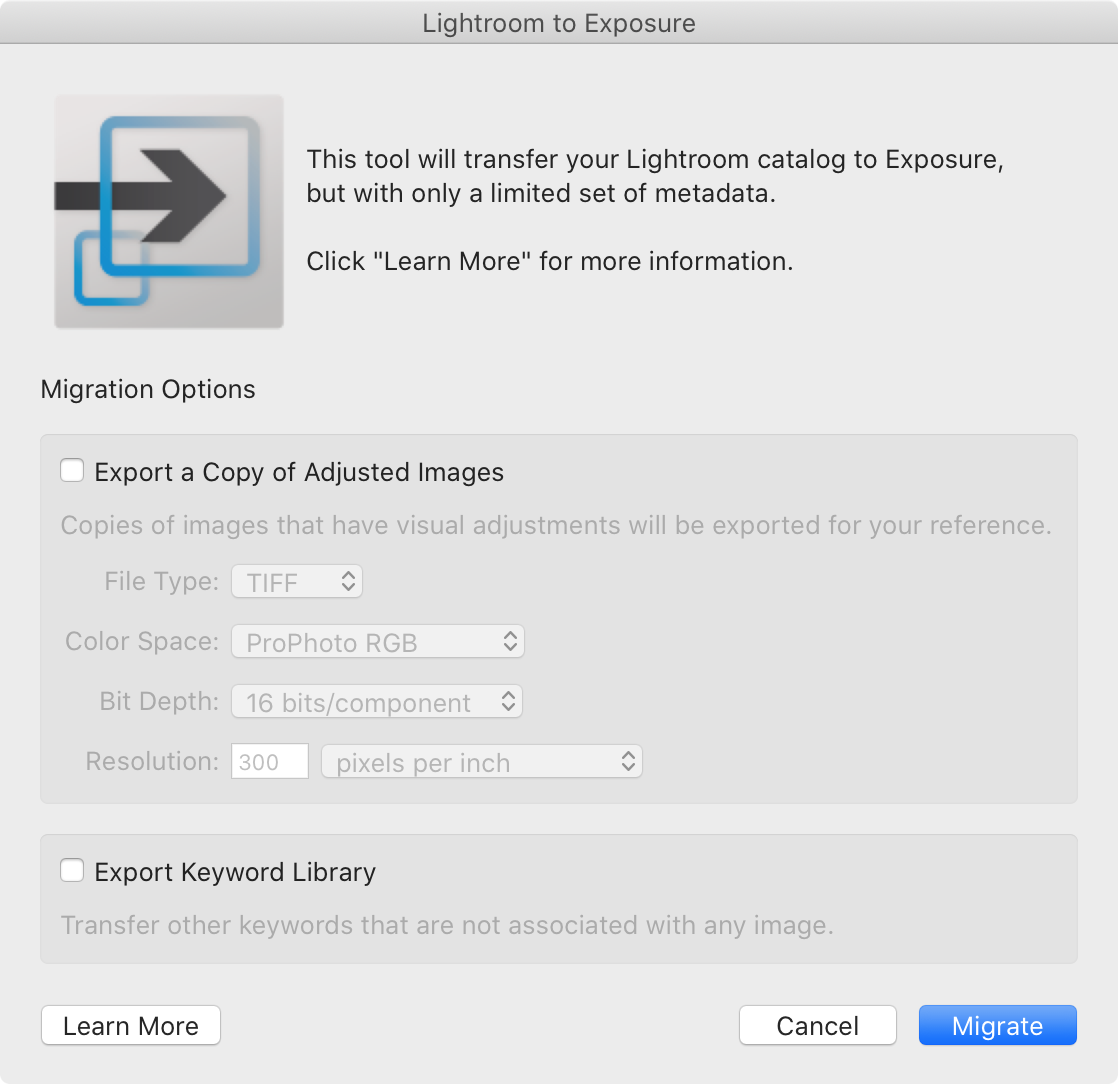 Migration Options
Export a Copy of Adjusted Images
Exposure renders images in their original state without Lightroom visual edits. This is because the programs use different visual adjustment parameters and algorithms.
Check this option if you want copies of images with Lightroom adjustments applied to be exported to Exposure.
Set the file preferences for the copy. Your original image will also be migrated.
Export Keyword Library
Keywords linked to specific images automatically transfer.
Check this option if you want to transfer all keywords even if they aren't associated with any images.
Migrate Images
Click Migrate when ready. The dialog window will close and run a process to export metadata and create image copies if needed.
When complete, Exposure will open with a dialog window that shows all folders and collections that were added.
Missing Folders
If any folders in the Lightroom catalog are currently missing, they will be displayed before the migration continues.
If you want to reconnect the folders in Lightroom, press Cancel to close the tool. Start it again when complete.
If you want to ignore the missing folders, press Continue.
Lightroom Metadata Imported and Recognized by Exposure
These metadata categories are transferred from Lightroom and applied to the images in Exposure.
Image Orientation
Crop and Rotate
Flag, Rating, and Color Label
Copyright, Name, Address, and Email
Copy Name, Title, and Caption
Keywords
Collections and Collections Sets
Note: Collection information is stored in individual image metadata. Exposure needs to scan the individual images before Collections will show. This will take some time, but if you leave Exposure running in the background for a few hours or overnight, your Collections will be populated.
Lightroom Metadata Not Supported by Exposure
These edit and metadata categories from Lightroom are not recognized by Exposure.
Visual Edits including Presets, Spot Fix, and Red Eye Correction
Watermarks
Lens Correction
Edit History and Snapshots
Smart Collections
Virtual Copies
Other EXIF/IPTC fields
Export presets, Library Filter presets, Import presets, and other similar presets
Map/Book/Slideshow/Print/Web modules