The Exposure X3 Complete Workflow Update and newer versions of Exposure come with an uninstaller tool. It will remove the Exposure application from your computer, along with all external editor and plug-in components. In addition, it will offer to deactivate your license code.
Note: Exposure versions for Mac before the Exposure X3 Complete Workflow Update (released in March 2018) did not have an uninstaller tool. Use this article to remove earlier versions.
Manual Uninstallation on macOS
1. Depending on when you installed your software, uninstallers are found in /Applications/Alien Skin or /Applications/Exposure Software.

2. Find the uninstaller for the app you'd like to remove.
In the above example, the Exposure X3 Uninstaller will remove Exposure X3. The Exposure X3 Bundle installer removes Exposure X3, Snap Art 4, and Blow Up 3.
3. Launch the uninstaller, and then click Uninstall to continue.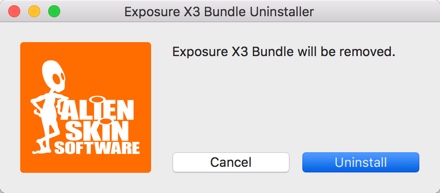 4. Your computer's security system may ask for your password before the uninstaller continues. Enter the password you use to log in to your computer. You'll be prompted twice. Once for the uninstall and once for the deactivation tool.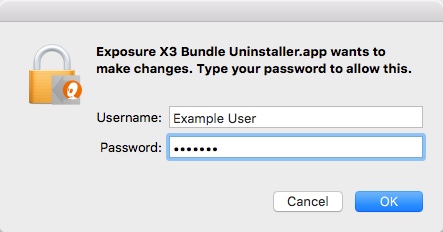 5. You'll be given the option to deactivate your license. If you want to install the same software on another computer, check the box and click Next. If you want to re-install it on the same computer, leave the box unchecked and click Next.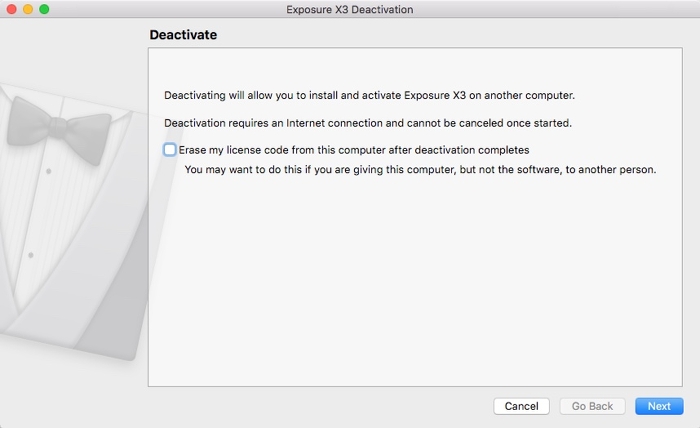 6. Follow the prompts to complete the removal. Click Close to finish.