Color Changes After Applying Settings
Problem
While working on an image in Photoshop, you use Exposure as a filter. The image looks great in Exposure, but after you apply the edits the image looks different in Photoshop.
What is happening
A common reason is that the image contains a color profile that doesn't have enough information to ensure repeatable rendering from one program to another. Some devices like image scanners or phones may create proprietary color profiles that have this issue. 
Solution
Change the image to a common color profile in Photoshop. Common color profiles include: sRGB, Adobe RGB, and ProPhoto RGB. Changing to one of these color spaces will ensure that image renders correctly.
You can convert an individual file, or set up Photoshop to automatically convert all images to a common color profile.
Change individual file
In Photoshop choose Edit > Convert To Profile.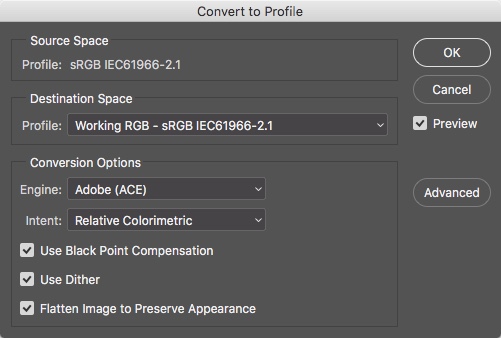 Set the Destination Space to a compatible setting. The default is Working RGB - sRGB. Adobe RGB (1998) and ProPhoto RGB are also compatible.
Click OK to apply the change.
Automatically change files
You can set Photoshop to automatically change files to a working color space. This ensures that all images edited in Photoshop use the same working color space.
In Photoshop go to Edit > Color Settings.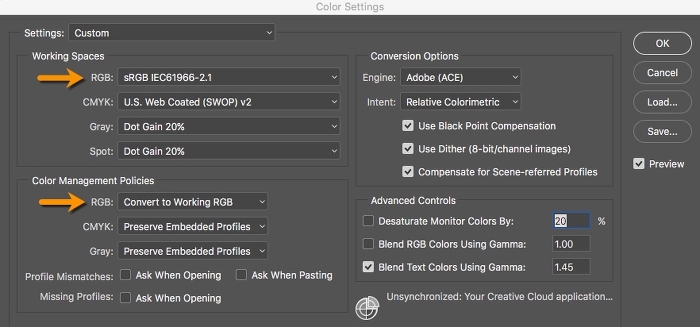 In Color Management Policies change the RGB dropdown to Convert to Working RGB (from Preserve Embedded Profile).
The default working profile is sRGB. Change the working profile to Adobe RGB (1998) or ProPhoto RGB if desired.
Click OK to apply the change.
Test the file
After you have converted the color profile, try editing your image in Exposure again. This time when you apply the edit, the rendering in Photoshop should match what you saw in Exposure.
What if this doesn't fix the problem?
If changing the settings a common color profile does not solve the problem, submit a support ticket.
Provide a description about the difference you're seeing and when it happens. Often a before and after screenshot is very helpful.
How to take a screenshot